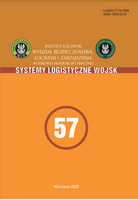 The scientific journal "
Military Logistics Systems
" has been published periodically since 1976 by the Institute of Logistics, Faculty of Security, Logistics and Management, Military University of Technology. It is addressed to research and teaching staff, logistic staff of the army and enterprises, and students. It is a unique magazine on the publishing market containing articles both in the field of military and civil logistics. The high substantive value of the Journal is recognized by a wide group of scientists and practitioners. The journal "Military Logistics Systems" fully complies with the objectives of the Development Strategy of the Military University of Technology, and the topics covered in it are consistent with the mission of the university. The journal is on the list of MEiN (100 points).
We would like to inform you that from September 18, 2023 (date of article submission), in the case of articles accepted for publication (after a positive scientific review), an article processing charge of 1 000 PLN is charged.
Editor-in-Chief: PhD Ryszard Lewiński, Eng.